The end of 2018 marks 2.5 years since I accidentally wandered into the energy industry via Singapore Power. When I first started in the industry I had no idea how much a rabbit-hole it actually was. Like many people, what I knew was only the wall power socket which I plug in my adapters, and the monthly bills I get in the mail. Boy, was I wrong!
It took me a while to get a clearer grasp of what I got myself into. Eventually I realised that like many other industries, technology is fundamentally changing how energy is being generated, transported and consumed.
New technologies like renewable energy sources and energy storage systems are slowly but surely transforming how energy is generated and transmitted, from a centralised to a decentralised model. Electric vehicles, climate change and sustainability are shifting and reshaping consumer mindsets as to how energy is being used. Regulations are struggling to keep up and further downstream, utilities and other energy industry players struggle alongside with all the changes. But change is inevitable.
As I learnt about the changes I realised that there is serious opportunity to disrupt. And that's not just me, anyone who has thought a bit about the energy ecosystem will see the same opportunities.
If you look at the slate of products that Elon Musk has been releasing — electric vehicles by the boatloads, superchargers, batteries for residential and districts, solar PV rooftops and so on, you would understand better that he's really developing products not for transportation but for EnergyTech.
EnergyTech is the all new disruptive technologies that are riding on the wave of changes that is happening in the industry, taking advantage of the chaos and uncertainty to grab market share or create new markets itself.
And so after 2.5 years and much hard work, we finally released in the past few months, a slew of our own EnergyTech products. Products ranging from consumer engagement through mobile platforms, to using AI to improve operational efficiency, an industrial IoT platform to control and monitor energy assets and even a blockchain powered renewable energy certificate marketplace!
I feel like I've cramped a career's worth of products in just a couple of years!
Rolling out our first EnergyTech product
We started the year coming out of the annual Singapore International Energy Week (SIEW) 2017 where we made a few announcements. The most significant announcement for us was with our first customer, Sembcorp Marine, where we sold our first EnergyTech product (Aurora) to help them monitor their solar energy generation. Along with Aurora, we embedded our AI for energy product (Energy Brain), to help them optimise their energy consumption using large-scale lithium-ion batteries.
We worked hard at deploying solar panels and batteries throughout the year. We also spent significant time building the correct models for their energy optimisation using batteries. A few months ago we finally deployed Aurora and Energy Brain to production.
The results were exciting! We ran guided operations for optimising energy for a few months, and finally in October we started fully automated operations. The Energy Brain is now humming along without any human intervention, helping Sembcorp Marine to optimise their energy costs in a way they have never done so before.
Sembcorp Marine is an exciting start, but the Energy Brain is a lot more than that. We'll be rolling out many more features in the months to come for both Sembcorp Marine as well as other customers, in Singapore and abroad.
SPUGS and SPUG Cloud
We have been working hard to deliver several iterations of our SP Universal Gateway (SPUG) as well as our energy monitoring sensors (emon) since 2016 and all that hard work paid off. We have now deployed hundreds of them throughout the island.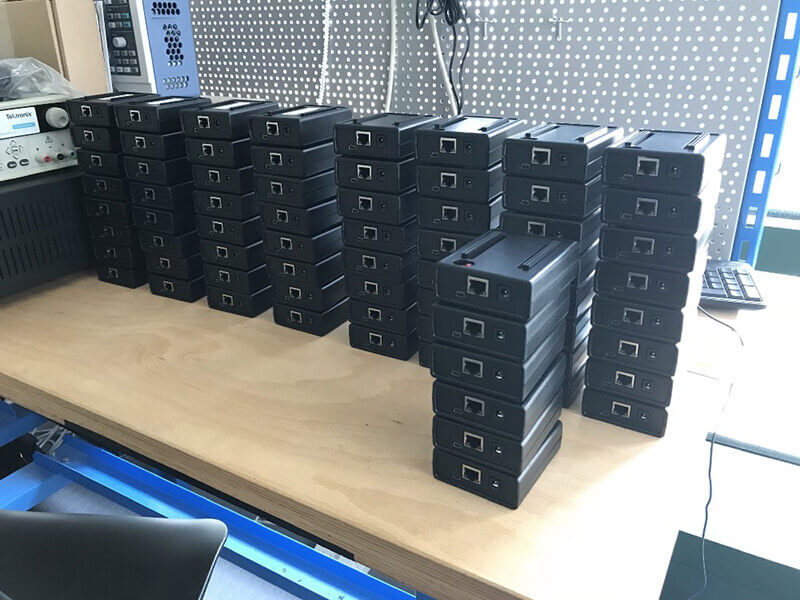 Together with our SPUG Cloud, we're now managing a network of IoT gateways that connect to a number of energy assets around the island including meters, batteries, solar panels and many others.
We have deployed SPUGs to our customers (like Sembcorp Marine) as well as our substations and district offices, using them for multiple and different energy applications including peak shaving, contracted capacity optimisation, solar panel monitoring and many others.
Challenging ourselves to be more sustainable
Last year we launched a pilot with Bukit Panjang Community Center (BPCC) and with that pilot helped them to reduce their energy usage by 30%.
Flush from that success, we have wired up a number of our District Offices (DO) with emons, helping our colleagues at the various DOs to understand their energy usage patterns.
To make things more exciting we launched an energy challenge for the various participating district offices. This in turn has helped us to reduce our energy bills as well!
Back to school (sort of)
We have always had a good relationship with NTU's Energy Research Institute (ERI@N) and we sealed it with a historic signing of a project collaboration to work on a Smart Multi-Energy System project, tapping on our SPUG platform and ERI@N's research capabilities. This project will be powering multiple energy assets throughout Jurong Port.
Trying out renewable energy at home
We launched an employees-only pilot for Home Solar, using a micro-inverter from the winner of our Free Electrons accelerator program, BeOn. The pilot ran successfully and we collected a lot of useful data for future deployments.
Blockchain for EnergyTech
Last year we signed up to be one of the pioneering 12 energy companies to be part of the Energy Web Foundation, a global non-profit organisation focused on bringing blockchain technology to the energy sector. After a series of workshops and meetings we eventually landed on taking a lead role on the certificate-of-origin use case and bringing it to reality.
We decided to use the energy blockchain to implement a marketplace to trade renewable energy certificates (REC). Again using a combination of our SPUG platform, Aurora and the energy blockchain, we built a REC Marketplace prototype and did a technical demo at Event Horizon 2018, a global blockchain summit held in April in Berlin.
The reaction was tremendously positive as we were the first to demonstrate a working prototype on the newly built energy blockchain. Encouraged, we worked very hard to roll out a full production version of the REC marketplace for SIEW.
We worked with our internal business team and rolled out the world's first REC Marketplace powered by blockchain at the ASEAN Energy Business Forum this year.
We also had a booth in SIEW 2018 where we showed off to visitors how the REC Marketplace can help the REC buyers and sellers to achieve their sustainability and economic goals. The booth impressed both local and foreign visitors and we had very supportive responses and reactions.
For the launch itself, we managed to sign on 3 buyers, including CDL as well as DBS, both existing larger REC buyers, as well as ourselves (Singapore Power) as a first time REC buyer. As for the REC sellers we managed to sign on 4 different sellers including Katoen Natie, where we deployed our SPUG and Aurora to help manage their solar PV installations.
Katoen Natie is a global logistics service provider and port operator headquartered in Belgium. They became one of our customers earlier in the year and invited us to speak at their launch of their phase II of their solar installations at their warehouses in Singapore, alongside the Senior Minister of State for the Ministry of Trade and Industry, Chee Hong Tat. We also had a special session where we showcased our products and capabilities to the Belgian ambassador and the minister.
We had a lot of traction with the media as well, capping with a short news clip from ChannelNews Asia!
It was great to see your products called out in the news, but seeing it on TV brings it to a different level!
Reaching out to consumers
SP Utilities was our first product back in early 2017 when we were still experimenting and figuring out the whole deal with the changes in the industry. While it was a good product that had solid support from our consumers, and despite rolling out features almost every month, we soon came to a conclusion that it had limited runway because there was a limit to what a utility app could do. We had to do something in order to scale.
Since early this year we've worked hard to re-develop our SP Utilities mobile app from a single-purpose utilities app, to a multi-purpose app that serves as a platform to deliver more services and conveniences to our consumers. We call these services 'mini-apps'. We re-launched the new app in August and it has been tremendously successful and stable!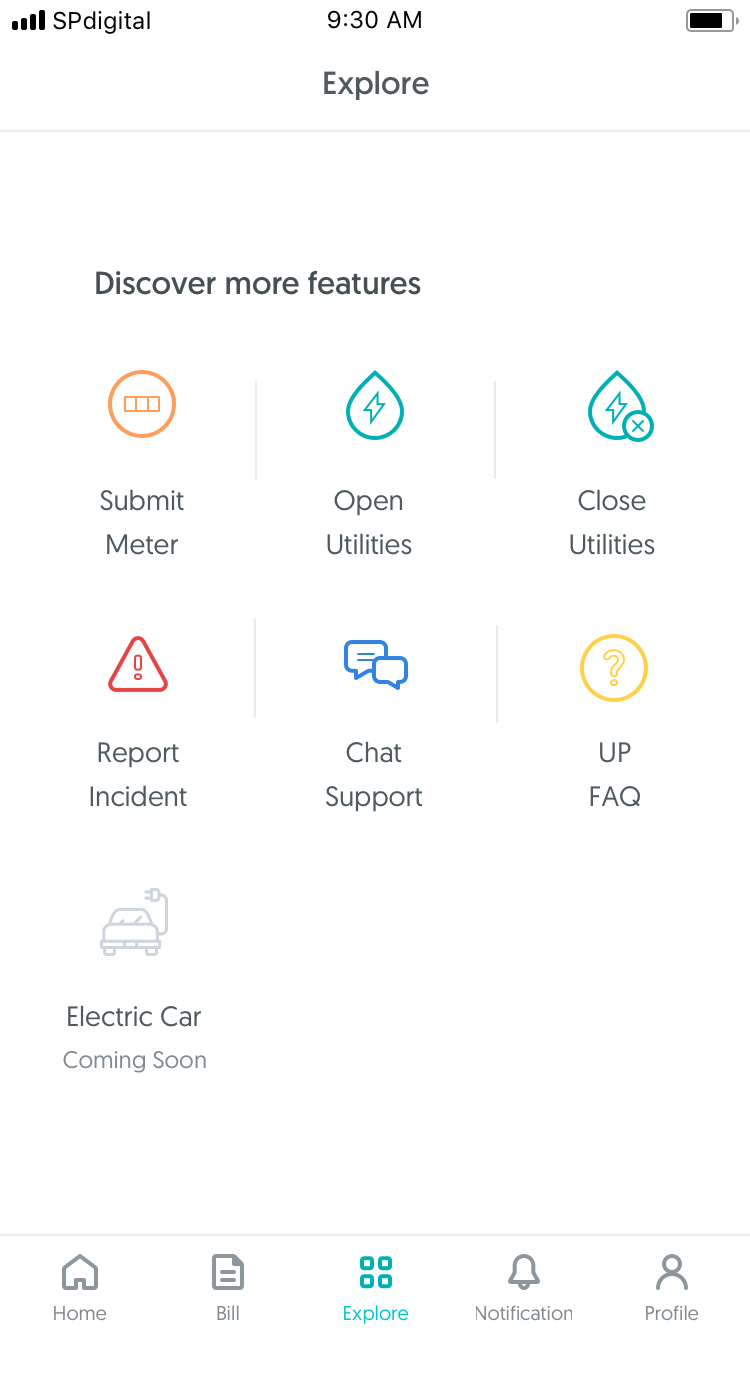 Now besides viewing your monthly bill and paying for it, you can see half-hourly readings of your electricity consumption if you have a smart meter (also known as AMI meter). We're also piloting smart meters for water and gas in Teck Ghee, and if that runs successfully we'll add those meters as well.
Our first few mini-apps that we're rolling out on the new multi-purpose mobile app are relating to the Open Electricity Market, and also for the Electric Vehicle (EV) charging stations. Besides locating the charging stations, the service will allow you to charge and pay for the charging of your electric vehicles. Our initial rollout is primarily for fleet vehicles, with the signing of the Grab as well as the HDT fleets. Soon we'll roll it out to the public, along with the 1,000 charging stations that will go out by 2020.
Our efforts has not gone unnoticed by the industry. In October, we won the IDC Omni-Experience Innovator Award 2018 for Singapore. It's a tremendous honor to be recognized for the effort and we thank everyone that put in the vote for us!
Operational Efficiency and Energy Brain
Data and AI is an important part of the core team and is often the key value proposition for our products.
We experimented with a number of things in the beginning and achieved small milestones in conditional monitoring for gas pipelines and reducing false positives during electricity meters inspections.
This initial work became foundation for us to understand how data and AI not only improve efficiency but also do things that could not be done in the past. Beyond smart meters and smart grids, we aim to provide true 'smartness' to the industry, not just communications but actual intelligence.
After much hard work we launched our production Data Lake in early 2018, helping to improve our data extraction 7x and our processing and report generation 26x from the existing data warehouse software. Along with 34 billion records from our smart meters and other data sources, we started to gain significant data to allow us to do a lot more operational efficiency for our other teams especially in SP Services.
In addition, we also launched our first AI product, called Energy Brain. Using a combination of 4 main functions — profiling, forecasting, optimizing and monitoring, the Energy Brain helped our customers optimize their energy usage and reduce cost as well as to better manage their energy assets such as solar PV, batteries and so on.
More importantly it's not just a product launch but we're also successfully deployed Energy Brain in production in a customer site in Sembcorp Marine.
In the coming months we'll be rolling out more products and improving existing features.
For the community
On the community front, we continued sponsoring and supporting developer-run conferences and hackathons where we can, including GopherCon Singapore, Hackomania, Mosque Tech Challenge, Coding Girls, DroidConSG, and UxSEA. A number of people in the team also contributed directly and personally in helping out to organize these events.
We also supported a whole bunch of meetups with our office space as well as sent our speakers to various events to share their experiences.
Hashtag Life at SP
Michael helped run a new joiners session recently and I found myself explaining how it all started for SP Digital in June 2016. It's amazing how far we have come in just 2.5 years.
I started SP Digital not knowing what digital transformation was, not anything about the energy industry at all. In this short time we've grown tremendously in people, capabilities and customers. We defined a new space — EnergyTech — and built platforms and launched products for it. We changed how SP, a traditional utility, operated, created new revenue streams and engaged consumers like never before. We also designed and deployed our own IoT devices including sensors and gateways and started running one of the first few IoT platforms in production. While I started the ball rolling, all the successes we had the past year is all due to the team's hard work and dedication. I'm truly grateful to have worked alongside an amazing bunch of people.
We end the year almost touching the 130-strong mark and there's still plenty of things to do!
Looking forward to an amazing 2019!
Thanks to Krystal Gan.