As the decade comes to a close in a few more weeks, I have plenty to reflect back on. About 3.5 years ago, I started doing digital transformation for one of the most conservative industries I know — the electric utility company. It was a personal challenge for me to make a serious impact and also contribute to Singapore and the tech industry by building a strong Singapore-focused product engineering team. My goal was the digital transformation for SP Group and serving external customers have been part of SP Group's initiative to generate new lines of business.
However we started 2019 with a big change in organisation, where SP Digital merged with another business unit and became a full subsidiary of SP Group. As a result, instead of developing products and serving customers for SP Group, the products that we created became SP Digital products, and the customers became SP Digital customers.
This was a big change! From a team of engineers, designers, data scientists and product managers we now have customer operations, business development, sales and marketing people as well. From developing products to power internal business units, we now need to develop, market and sell our own energytech products to our customers, it was a radical yet logical change.
Aside from an internal change, there was also seismic change externally, in Singapore and also around the world. 2019 has been the second-hottest year on record and Arctic sea ice reached new lows as carbon emissions reached new highs in at least 800,000 years. Extreme weather in just the first 6 months of the year displaced a record of 7 million people worldwide — hurricanes at the tropics, like Dorian and Lorenzo, broke new devastating records, Amazon and Indonesian forest fires raged endlessly, with deforestation reaching the highest rate in 11 years. Climate change has truly ravaged 2019.
While there has been some measures introduced in Singapore in the past few years to mitigate climate change, there hasn't been a serious rallying cry to do so. However in 2019's National Day Rally, for the first time ever, Prime Minister Lee Hsien Loong, described the grim existential threats facing Singapore if we don't start doing something about it. The PM also announced a $100 billion fund to implement measures to mitigate these threats. What came after was an explosion of follow-on announcements and activities including sustainability and green loans worth billions of dollars and pledges from corporates towards sustainability. For example, Temasek Holdings recently pledged to go carbon neutral by 2020 and halve the greenhouse gas emissions of its extensive portfolio by 2030. The Monetary Authority of Singapore (MAS) announced the launch of a US$2 billion green investments programme (GIP) to invest in public market investment strategies that have a strong green focus.
These changes that are happening in Singapore and around the world are not one-offs and we live in a world that in transition. In 2017 we went on an offsite and decided on "Powering sustainability with energytech" as our vision, and on hindsight, this is quite prescient. We live in times where our world needs all the help it can get, and for us we want to do it through what we know best — technology.
To be specific, energytech.
Energytech and sustainability
So what exactly is energytech?
Energytech, a portmanteau word much like fintech or proptech or any of the -tech words, refers to technological innovations that drive changes and disruptions in the power and energy industry. Energytech is focused on energy efficiency, renewable energy, energy procurement and markets, green buildings, energy storage, mobility (especially electric vehicles), hydrogen and many more.
In other words, energytech is simply technology with a focus on power and energy. However, for us it is a means to power our vision and a tool to drive sustainability. We want energytech to achieve these 3 main goals:
1. Inform
This is the most basic need and forms the foundation of everything else we build. We want to provide data, information and recommendations to our customers such that they can make good decisions. Many of our products end up providing this capability because we can't take action if we don't know.
2. Enable
We want to provide our customers with the ability to carry out their decisions. There are three levels of this:
Direct control — allowing the customer take action and to directly control the settings, which many of our products provide.
Recommendations — using data and AI to determine the best course of action. While giving information is fine, very often we don't know what the best action to take. We want our products to provide that intelligence to recommend and advise, but with humans to be ultimately responsible for the actual action.
Automation — taking the human out of the equation altogether to provide faster and more accurate response. This is where we want to eventually end with.
3. Value
We want to provide economic value to our customers; sustainability should be pragmatic and not just about donations to a cause or as marketing fluff. To push the sustainability agenda our customers must gain economic value as well. Our aim is to provide a win-win for all, and not some will win and others will lose.
Our report card
2019 has been an intense year, with many changes. At the same time, we have delivered some of our finest work as well, shaping our strategy and defining our products and in the process acquiring some large customers who believed in our vision.
Some of the notable highlights are as below.
Engaging customers
The power and utility industry is generally a behind-the-scenes industry where we're simply something you turn on and use. However, around the world this is changing — customers want to better engage with their providers, energy efficiency and sustainability is increasingly top of mind and consumers want to know.
Energy insights for you and I
The Open Electricity Market was one of the largest thing that happened to the electricity market in Singapore in 2018 and 2019. As part of the industry, we contributed by helping our customers better figure out the best retailer package for them based on their electricity usage.
Beyond that, we also provided electricity consumption readings down to half-hour granularity, or aggregated to the day or to the month if you have smart meters. As of September 2019, SP Group has rolled out 290,000 smart meters to households all over Singapore and the rest of the 1.1 million households will be getting theirs incrementally over the next 5 years.
Paying with convenience and ease
One of the most frequent interaction with utilities is usually when it comes to paying for the utility bill. In 2017 when we first launched the SP app, bill payment was the biggest feature. Unfortunately we have only been able to enable payment through DBS credit cards due to contractual agreements that were in place. In 2019, we overcame those difficulties and forged ahead with enabling more cards from different card issuers.
At the same time, we also enabled transactions from American Express cards, and as it stands today, from processing transactions from just 1 card issuer (DBS), today we process transactions from about 400 different card issuers around the world, from Banco Patagonia, Argentina to the Bank of Valetta, Malta and even the Pentagon Federal Credit Union!
Similarly our transaction volumes leapfrogged 7 times from the year before, making us the go-to platform for paying utility bills (besides GIRO, which still holds the largest volume).
Charging sustainability with electric vehicles
In January 2019 SP Group started rolling out electric vehicle charging stations, powered by the SP app. If you have an electric car you need to charge, you can locate one of the already deployed 250 charging stations all over Singapore through the app. You can start or stop charging through our app and at the end of the session, pay for it as well. As the network grows to target 1,000 by the end of 2020, SP Group has also partnered with Grab and HDT to charge their fleets. Today, SP app has one of the largest fleet of EV charging points in Singapore and growing.
Greening up
We launched the GreenUP campaign in the SP app a few months ago, to drive the message of sustainability through fun and games! By going through different challenges and learning how to live a more sustainable lifestyle, our users can collect 'leaves' which will slowly grow a seed to a seedling, to a sprout, a plant and finally a tree, collecting rewards along the way.
We also created a special challenge, called the Energy Saving Challenge, which encourages you to reduce your household electricity consumption. You can monitor your electricity consumption dashboard on a weekly basis and if you achieve 2% or more of your target, you earn leaves.
At the same time, you can also start sharing your household's utilities to other family members, and even allow them to pay the bills. This encourages the whole family to monitor and participate as team!
Offices, malls and campuses
In the annual Singapore Energy Statistics report by the Energy Market Authority (EMA) electricity consumption by the industrial sector took the lion's share, with around 43% while commercial sector took quite closely behind with 36%. In the past years, we engaged industrial-type buildings to help them manage their distributed energy resources (solar panels and batteries, more of that later).
In 2019, we started looking at helping commercial buildings to better manage their energy efficiency, in particular for offices, malls and campuses. The Building and Construction Authority (BCA) reported that for commercial buildings, average the split between tenant and common areas is almost equal. This means to enable the building's energy efficiency, we need to work on both the tenant and common areas.
Energy efficient tenant areas
The first customer for our product for the tenant areas is one of the most prominent locations in Singapore, Changi Airport. Changi Airport is one of the largest transportation hub in Asia and is currently rated the World's Best Airport by Skytrax for seven consecutive years.
Through a rigorous process we showcased the value that we can bring to Changi Airport and successfully won the tender to help them manage the tenant utilities in Terminal 3. While ostensibly an airport terminal, Terminal 3 is also sizeable mall of its own right, with close to 100 retail stores, fitting nicely into our customer category of malls.
We deployed smart electricity and waters meters for their tenants and aggregated the meter data through a wireless mesh network that connects all the meters together, becoming one of the first to integrate smart electricity and water meters together in a single wireless network within a building. Using a combination of smart meters and advanced operational analytics, we helped Changi Airport to cut down their operational costs by more than 40%.
Not long after, HDB Connection One also started using our product. HDB Connection One is an iconic cluster of 2 office towers and 3 podiums at Bukit Merah Central with more than 100 tenanted office spaces, and anchor tenants including SingHealth, Singapore Pools and Surbana Jurong.
Our latest win is the Nanyang Technological University (NTU). NTU (which is also my alma mater) is the second largest university in Singapore with about 38,000 students, faculty and staff but has the largest university campus in Singapore (about 200 hectares).
Energy efficient common areas
Our SP Universal Gateway (SPUG) is literally a gateway to a building's Building Management System (BMS), integrating to request information and derive additional recommended intelligence to the building owner.
We first piloted this with the Bukit Panjang Community Club (BPCC) last year by helping them with visibility of the energy consumption, through our energy monitoring sensors. At the same time we also placed a dashboard at their lift lobby to showcase the sustainability efforts by BPCC. It was a pretty successful pilot that has been running for almost 2 years now.
We went back to the drawing boards afterwards and tweaked our technology, product and strategy to make it part of the larger picture. Our first customer is the Sandcrawler building, at one-north. Named for the classic Star Wars transport that inspired its design, the Sandcrawler has eight floors of office space, retail shopping and a 100-seat theater.
Our work has just begun. The vision is a unified view of all energy consumption within a building over a collective or distributed number of buildings, advanced analytics and alerts to help with operational effectiveness and automated capabilities to optimise building energy efficiency.
Solar panels, batteries and micro grids
We had a really good run last year with our products helping our industrial customers such as Sembcorp Marine and Katoen Natie with the solar photovoltaic (PV) adoption and deployment.
We deployed a number of capabilities for them including AI that control their energy storage systems (ESS) to reduce peak uncontracted capacity charges as well as machine learning models that recommend the most optimal time to use their equipment.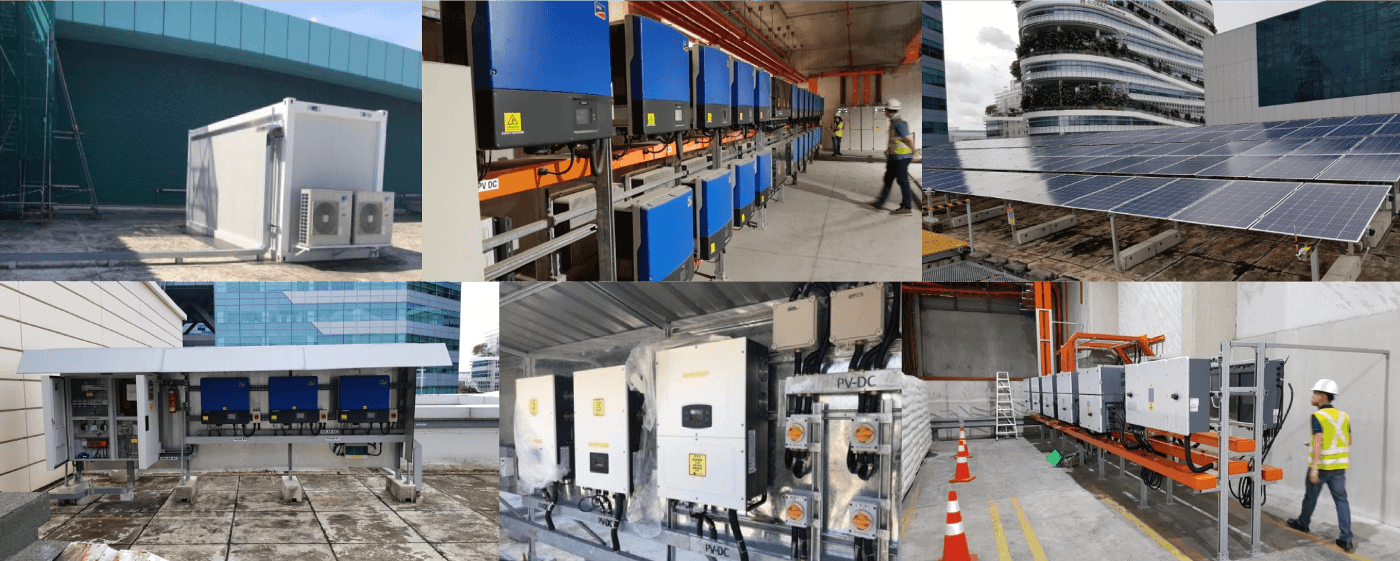 We also deployed machine learning models that help us better monitor the solar panel's condition, reducing the need to do regular inspections. In addition, we help our customers to do the regulatory reporting necessary for large solar PV installations.
Along with the cheap electricity from the solar PV installations, solar PV owners can also issue renewable energy certificates (RECs) from the electricity that has been generated. In Oct 2019, SP Group officially became the first local issuer of RECs that are certified by the I-REC standard and we built the platform that enabled it.
The REC platform now enables the end-to-end REC process, from issuance of the RECs, to the trading on our platform and finally claiming of the RECs, bringing it the end-of-life. This brings tremendous value to the solar PV owners as we are a one-stop shop for all these activities.
We also started integrating with micro grids, starting with our own SP Concept Lab. With the data that we get from various connected energy assets in the micro grid we helped optimise the amount of energy used to power the building.
Our eventual vision is to help buildings with managing distributed energy resources (DERs) and campuses with microgrids, through information, direct control or layers of intelligence that drives sustainability and energy efficiency.
Powering utilities
Even as we stepped up to be a subsidiary of SP Group, we continue to help various other SP Group business units using our technologies. In fact, we're doing more than ever in many fronts in helping utilities to operate more efficiently and to deliver more value to their customers.
We helped SP Services to improve their metering and billing operations using various machine learning models that reduces the need to send technicians down on site to inspect meters manually. We also helped to automate various billing processes and speed up their output. On an average in various processes we manage to drive a productivity increase of 40%.
We partnered with SP Powergrid and Powergas to work on various use cases for condition monitoring of their transmission and distribution equipment. We also worked with them to build network digital twins that help us better understand their networks.
We also partnered with Singapore District Cooling to design machine learning algorithms that optimise the Marina Bay district cooling plant, saving between 0.5–1.0 MWh of energy every day.
As we drive to power sustainability for buildings and homes, our roadmap still stay closely with utilities. By helping utilities be more operationally efficient drives sustainability wider and further.
Hashtag life at SP Digital
People remain the core of our success and being part of the community is part our culture. As we journey and grow, we continue our outreach to the community and beyond. In 2019 we supported 4 university events, sponsored 7 conferences in Singapore and hosted 44 meetups in our offices. Our support isn't just about money (there's that too) but also willing volunteers and speakers.
Internally we have 'rebranded' our Tech Talk Thursdays to TIKTalk (Today I Know Talk) though our talks still mostly remain tech focused (though we had talks on Pokemon competitions, flying private planes and pen collections). It's still entirely run by volunteers.
We also had our first internal hackathon, with some pretty enthusiastic participation and amazing ideas that came out from it. One of the big advantages of our internal hackathon is that we're much more geared towards bringing ideas to the market — we have the people and the channels to do exactly that.
The SP Digital team continues to grow as we forge ahead with building all the new exciting products for our customers but we take time to celebrate our successes.
And finally
I'm quite the accidental executive.
When people asked what I do, I used to tell them that I have been doing the same job for the past two decades — building and managing software product engineering teams — just with different companies.
Then I started doing the same in SP Group and somehow ended up running one of its subsidiaries, SP Digital. And then I won the Executive of the Year — Utilities at Singapore Business Review's Management Excellence Awards 2019.
Life's funny like that.
Thanks to Agnes Eng.