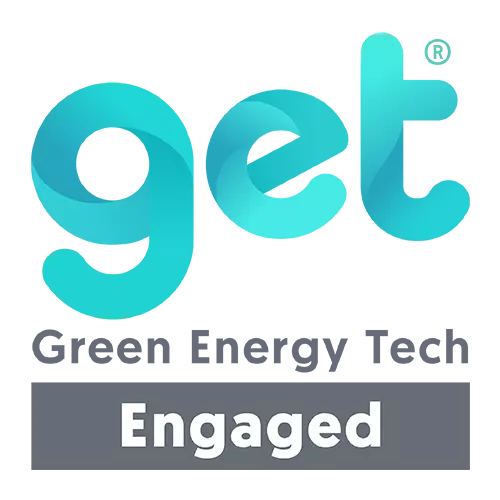 GET™ Engaged is a digital dashboard that provides real-time updates on the aggregated utilities consumption and resulting carbon emissions of a building or office, to promote sustainability in the built environment.
When displayed in areas of high footfall, GET Engaged creates greater environmental awareness amongst building occupants and visitors, while showcasing the company's efforts in sustainability.
Green Energy Tech Engaged
Understanding your Sustainability commitments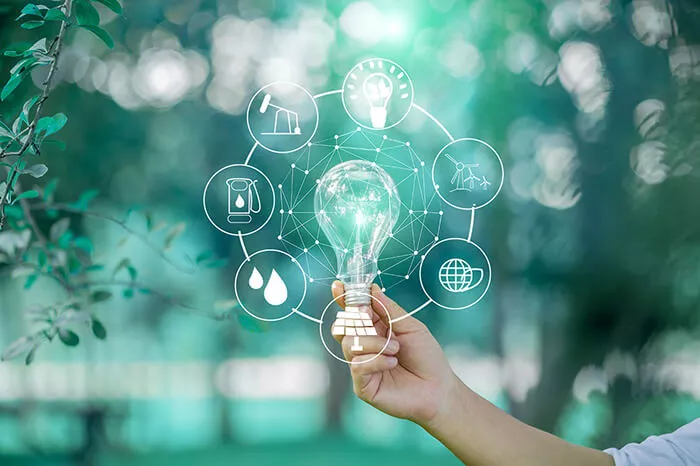 Set long term sustainability targets
Use energy efficient solutions
Strive for BCA Green Mark certification
Engage community in sustainability drive
Key Benefits
Earn
points towards BCA Green Mark certification
Enhance
your building's sustainability branding
Engage
building visitors and occupants
Educate
and drive sustainable behaviour and actions
How it works
1
Easy to configure
An easy-to-configure digital dashboard where you can select from a range of modules available to show on-screen
2
Intuitive
With rich and intuitive visualisations, it can be readily deployed in a building's public areas to strengthen awareness and engage your stakeholders to make more sustainable choices and actions
3
Win support
GET Engaged is the smart way to win mindshare and support of building visitors and occupants in your sustainability journey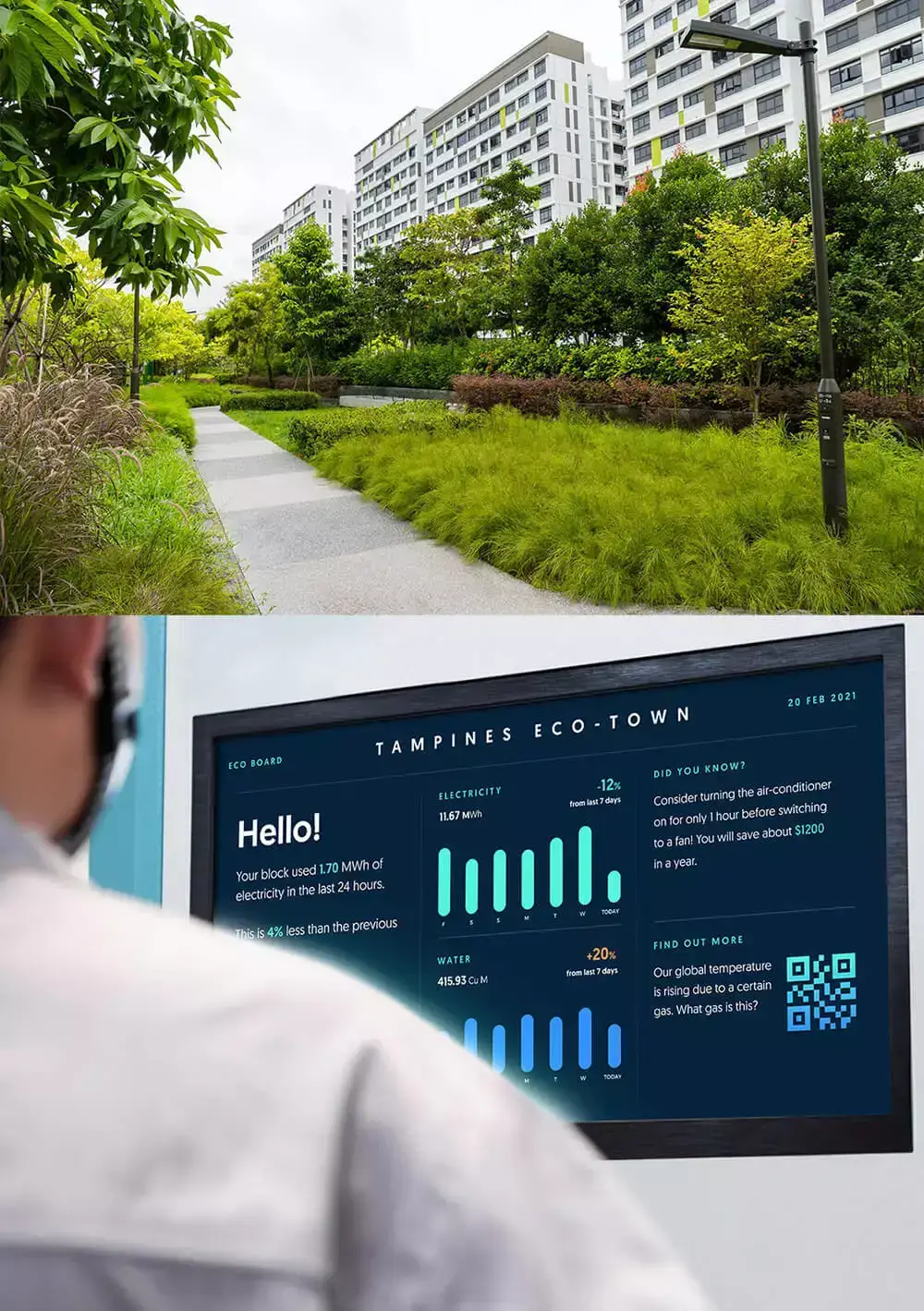 Where you can find our GET Engaged digital displays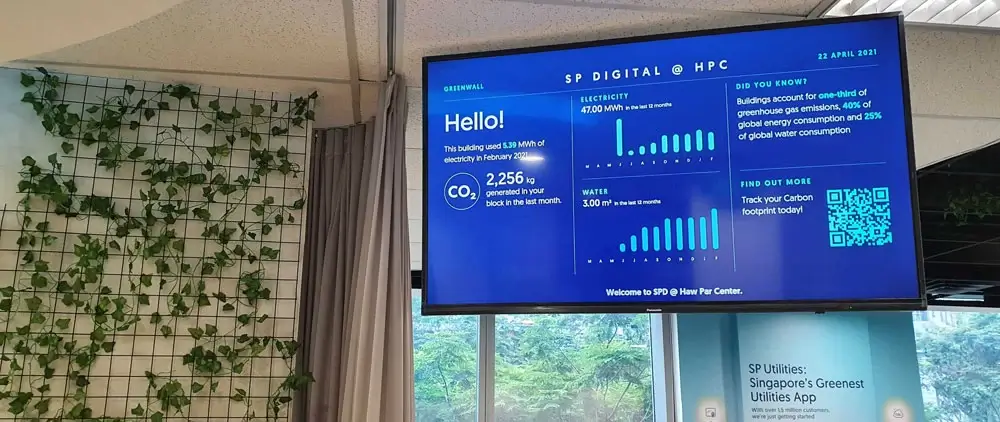 SP Digital Office & SP Group Headquarters
GET Engaged showcases the overall energy consumption and green activities of the building to engage occupants and visitors.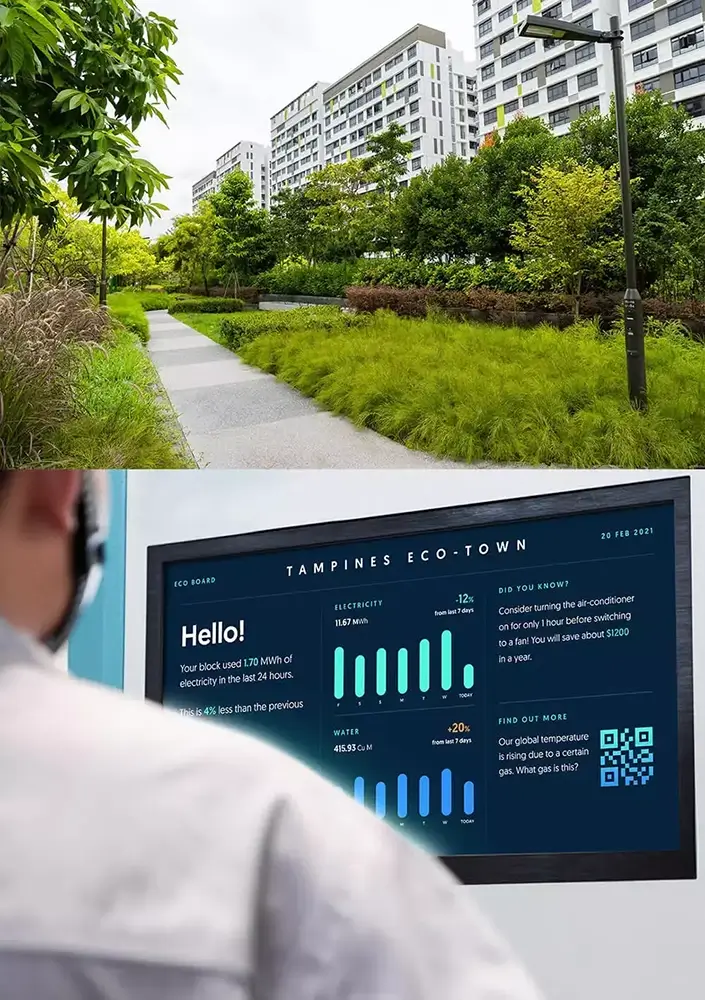 Case Study: Transforming Tampines into an Eco-Town
Tampines Town Council and SP Group, with the support from Temasek and the Ministry of Sustainability and the Environment, rolled out Eco Boards across ten HDB blocks in Tampines in December 2020. These households are the first in Singapore to have these digital Eco Boards.
The Eco Boards in Tampines is a pilot programme to help build sustainability awareness amongst the community. They provide residents with real-time statistics on a block's aggregated water and electricity consumption, and its resulting carbon emissions. Installed at the lift lobbies of each block, residents get easy access to green tips on how to lower their utilities consumption and minimise their household's carbon footprint. They can also take part in GreenUP Challenges via the SP app to earn exciting rewards.
What residents can do with Eco Boards
1
Get real-time updates on their block's utilities consumption and carbon emissions
2
Learn tips and tricks to reduce energy usage
3
Take part in weekly quizzes to earn rewards via the SP app by scanning the QR code on the Eco Boards
Testimonial
Apart from informing the residents on block's carbon footprint and utilities consumption, elements of gamification will encourage our residents to adopt sustainable habits in a fun and interactive way.
I encourage residents to install the SP app and use the 'My Carbon Footprint' calculator to understand how they can adopt eco-green practices.
Sustainability is not about what we say but what we practise. Let's do it together – Tampines Together.
---
Masagos Zulkifli
Minister for Social and Family Development,
Second Minister for Health,
Minister-in-charge of Muslim Affairs
Read more on Minister Masagos' Facebook page